Friday, January 25, 2008


The Corrs & Bono - Summer Wine - Live in Dublin 2002
Tuesday, January 15, 2008
Last Saturday, one of the Irish girls, Orla, her cousin, Aoife and myself took a trip north of Berlin to
Sachsenhausen Concentration Camp
. Its about an hour out of Berlin in an area called Oranienburg. This is what it looks like:
The large triangle you can see in the picture was where the main camp was. Most of the camp buildings have either been destroyed or fell into disrepair. There are only two remaining which were the old kitchen and laundry room. To the north of the triangle is a smaller camp which was used for special prisioners and to the west of the triangle is the industrial yard and execution pit. It's been in use in some shape or form since it opened in 1933.
The gate to the camp. Its German for 'Work makes free', or in other words, 'Work will set you free'.
The camp was originally a vacant industrial building that the SA took over. They opened it in 1933 and it was the first in the then state of Prussia. It was used primarily as a detention camp for people who opposed the National Socialists after they seized power. However it only remained open for just over a year and was closed in July 1934 after the SS took control.
It was completely rebuilt in 1936 by the order of the then newly appointed Chief of German Police, Reichsfuhrer SS Heinrich Himmler. It was first used to house political opponents of the Nazi Regime but after the Concentration Camps Inspectorate (administrative headquarters of all concentration camps) moved to Oranienburg, it took on a more serious role. After this, the camp began to fill up with members of groups who the Nazi regime saw as inferior and between 1936 and 1945, more than 200,000 people were imprisoned in Sachsenhausen. Tens of thousands died from starvation, illness, disease or were murdered systematically by the SS. Thousands more died during the evacuation in 1945 and around 3,000 prisioners were liberated by the Russians.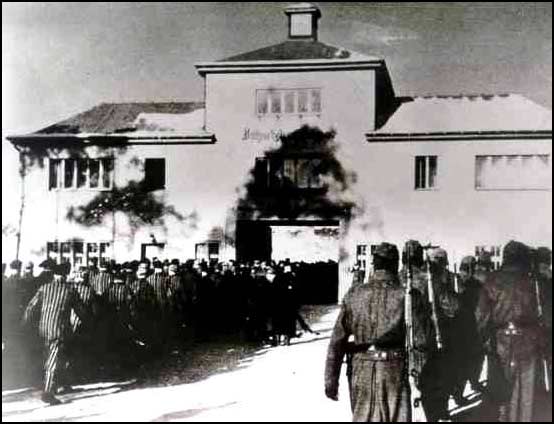 While in the camp, prisoners who were in the punishment squad were made to walk for hours over a variety of surfaces to test material for the soles of army boots which were produced in the industrial yard of the camp. Prisoners were also forced to watch their fellow comrades being hanged in an open space used for roll calls. the camp was also fitted with an execution pit, gas chambers and crematoriums. Although it wasn't on the same scale as Auschwitz, it still sends shivers down your spine just thinking about it.
After the liberation of Berlin and Germany, the Russians took control of the camp. Most of the camp, except the crematoriums and extermination facilities, was used for the same purpose as before. The NKVD, the Russian secret service, used the camp to house minor Nazi functionaries and those who were deemed 'politically undesirable'. After three years it became the largest of three camps used by the Soviets to detain undesirables. The camp remained open for five years and finally closed in 1950. Around 60,000 people had been imprisoned there. 12,000 of those died of malnutrition and disease.
After its closure, Sachsenhausen lay derelict for a few years until 1961 when the GDR launched its plan to turn the site into a national memorial. Instead of preserving the remaining building they decided to level most of it. It was there way of symbolising the victory of anti-fascism over fascism.
A memorial was built in 1961 by the GDR to commemorate everyone who died in Sachsenhausen.
Since then it has always been a memorial and since the wall fell in 1989 and it was handed back to Germany, the memorial been developing and changing. Even though its not what it used to be and much of what remains is closed to the public its still chilling. Especially when you make the mistake of going in the evening, staying in an exhibition too long and having to walk the length of the camp in complete darkness!!! Not recommended!!
"Sachsenhausen Stories"
Saturday, January 12, 2008
The Cranberries - Sunday - Live at a Fleadh Festival
Wednesday, January 09, 2008
It has been way too long since i've posted something but i thought i'd take some time off over Christmas from the blog. But now i'm back so you can call off the search!!
Got back into Berlin on Sunday afternoon after a bumpy flight from Dublin. We were greeted with the usual freezing temperature and the remnants of a heavy snowfall (i'm never there when it snows!!!). I wasn't particularly excited about returning because I was quite comfortable at home. Clean house, good food, a fridge that magically refilled itself (how does it do that!?!?!) and the usual creature comforts. But when I got back I remembered what I like about it and it wasn't so bad. Plus i'm only here for another month so i'm going to enjoy myself as much as possible and make the most of it.
Christmas went really good. It was nice to be home for more than a weekend so I could get settled. The spread of food was incredible as usual (thanks Mum) and I was glad to see the return of these little Ham and Cheese rolls she used to make years ago. They're small pieces of ham and ementhal cheese wrapped in filo pastry (could be puffed pastry, cant remember) and they're REALLY addictive. Because there was only three of us this year, we had Beef Wellington instead of turkey or goose. That went down a treat christmas day!!
Santa was good tome this year. some nice clothes, books, movies etc. But the highlight of the presents had to be my brand new
Spongebob Squarepants Parafoil Kite
It has to be one of the coolest things i've ever seen. Its a full sized Spongebob, and he's actually square, not flat like a usual kite!!! His hands and legs stick out and there's a long ribbon type thing coming out the bottom of him. And as you can see to the right he has his usual demented smile on his face!! I haven't tried him out yet but I will when I get back!! That was definitely the most interesting present I got, or ever got I think!!!
Christmas was pretty quiet overall. Just the way I hoped it would be!!! Got to see everyone I wanted to see and do everything I wanted to do so I was happy. As I said before I only have one month left in Berlin which is mostly for exams. My first is on the 24th of January and they go one till the 8th of February. I've 5 altogether so i'll be busy.
Thats about it for the minute. I leave you with a great live session with Van Morrison.